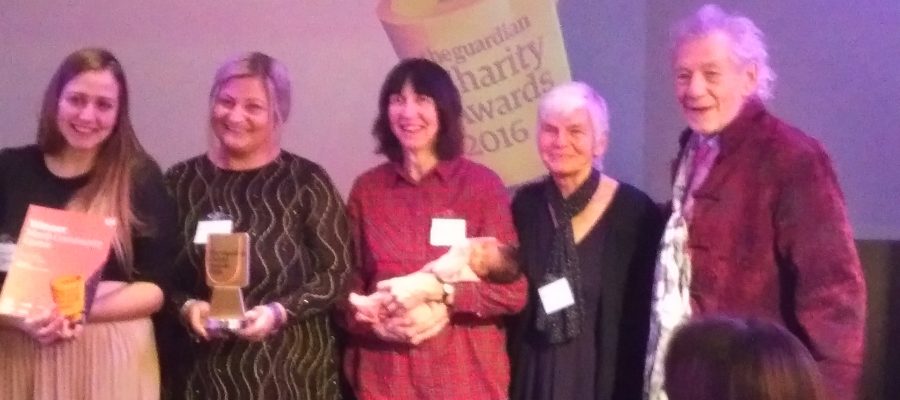 We're off to see the wizard! - 15/12/16
Good news!
In December, four representatives of the Marsh Community Centre, Lancaster,  (manager Councillor Rebecca Joy Novell, trustee Sally Pidd – of St. Tees -, Debz Hargreaves and Revd Jill Novell – of Lancaster Priory) met Gandalf in person, in London!
The Marsh Community Centre has been selected as one of the final five equal Winners of The Guardian Charity Awards 2016, selected from 700 charities across the UK; and  Sir Ian McKellen  presented the awards at a celebratory lunch in London!
The Guardian Charity Awards 'offer a unique platform to celebrate the success of small and medium-sized charities working to improve social well-being. For 24 years, they have showcased their work and given winners the backing and profile they need to move forward.'
Marsh Community Centre is based in one of the most deprived wards in Lancaster and Morecambe. It provides, amongst many things, welfare  support and advice to those most in need in the district and, in an attempt to boost social cohesion and integration, it unusually caters to both a poor estate and asylum seekers seeking refuge.
The Guardan has filmed work at the Centre, and the short films, showing the work of the five Winners can be accessed by googling 'The Guardian Charity Awards 2016 – the winners'.
On 18th December, 2016, the Well Recovery church will be making its debut at the Centre (led by Revd Carolyn Woodcock and Kerrie Hudson – supported by prayer from the local churches, especially the weekly prayer cell at St. Thomas More church).
It is wonderful news; but Marsh Community Centre has always operated on a shoestring budget and is still in need of some upgrading and repairs! (Its website shows its main donors: marshcommunitycentre.org.uk). For example, kind individuals from Lancaster Priory have paid for the regular cuts of grass at the Centre; and volunteers have maintained the grounds and painted the Centre. Donations, of any size, are always needed and welcome – and the winning of a national award indicates a confidence that such monies are being put to good use.
With thanks!
Revd Jill Novell
Sign up to our newsletter