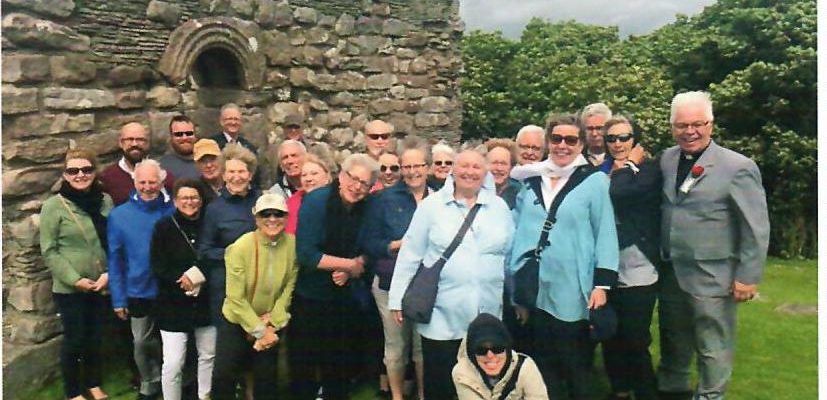 VISIT FROM ST JAMES EPISCOPAL CHURCH LANCASTER, PA - 03/07/16
Members from St James Episcopal Church Lancaster, Pennsylvania visited Lancaster Priory as part of their pilgrimage.

Lancaster Priory welcomed 26 members of the congregation from St James Church Lancaster (Pennsylvania) over the first weekend in July 2016,  including the Rector, Fr David Peck and Associate Priest.
The group stayed with members of the Lancaster Priory congregation and attended Sunday services at the Priory, which included a special celebration and barbeques in the morning and Fr Peck preached in the evening.
On Monday morning, July 4, the travellers were welcomed to Lancaster Town Hall by the Mayor of Lancaster, Cllr Robert Redfern. The Mayor was presented with a letter from Lancaster's Mayor, and gifts were presented. They were entertained to a visit of the Town Hall and heard of some stories from Lancaster's past, including the tale of Buck Ruxton who murdered his wife in Dalton Square in the 1930s and was hanged for the crime.

The American visitors were thrilled to receive such warm hospitality from their British cousins, and were very impressed that the Priory flag of St George was flying to welcome them – and even the sun was persuaded to come out and shine on them.
While in Lancaster they also enjoyed fish and chips in Morecambe, and a trip to St Peter's Heysham, and the ancient chapel of St Patrick. A group from the Priory congregation is hoping to pay a return visit in the near future.
For more information about their visit, please click here
Sign up to our newsletter