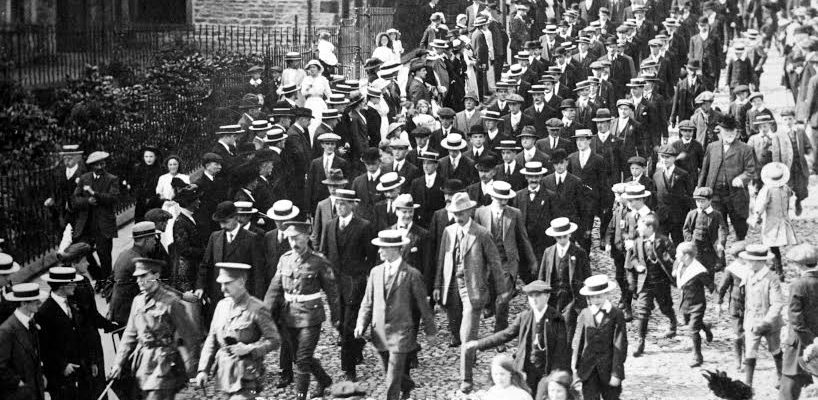 Gallant 200 - 02/12/13
Im the page subtitle
There was a unique commemoration of the First World War on 6th September 2014 at Lancaster Priory.
The service took place one hundred years to the day after a service was held at the Priory on 6th September 1914, which was attended by 200 local men, together with their families and supporters, before they marched away for training before being deployed on the Western Front.
These 200 men, some of whom are depicted in the historic photograph taken on 6th September 1914, came to be known as "Lancaster's Gallant 200" who volunteered to join the British Expeditionary Force after the first hostilities had taken place, and it became apparent that very large numbers of men would be needed at the Front. It is hoped that many of the descendants of these "Gallant 200" will be able to attend the church service on this significant anniversary for Lancaster.
Some parts of the service will reflect the original service from 1914, but we will also be able to reflect on the whole situation of the war as we look back on the events of 100 years ago. The Priory choir will sing a new anthem, "Anthem of Loss" specially composed by local composer Hermione Roff, and using some of the words of 1st World War poet Wilfred Owen, and the sermon will be preached by The Bishop of Blackburn. The service will take place in Lancaster Priory on 6th September 2014 at 11.00am. .
Sign up to our newsletter