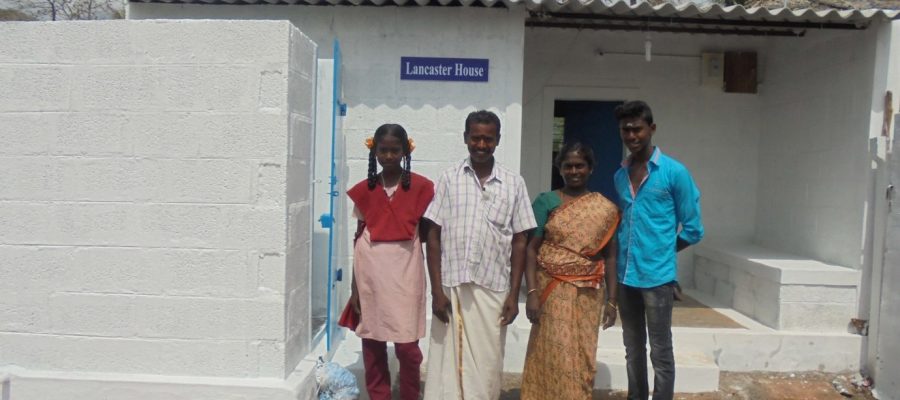 Reaching the Unreached - 24/10/17
REACHING THE UNREACHED (RTU)
RTU is one of the charities the Priory is supporting. It is working in southern India helping the poorest and most marginalised people, particularly women and children, by providing healthcare, clean water, housing, education and support. It cares for orphaned or abandoned children, many affected by HIV/AIDS, in children's villages, and provides education until they are able to live independently.
The Priory's donations have already provided Priory House and Lancaster House for two families whose lives they have transformed.
In Lancaster House live Kannan (aged 55), his wife Jeyalakshmi (42), their son Danapal (17), and their daughter Logeswari (14). Kannan had major health problems which resulted in his having to give up his job in a mill, and his wife has a major hearing loss. They were struggling living in a very inadequate leaking hut, and trying to earn enough money to feed their children. Fortunately they approached RTU who have provided them with this safe house with electricity. They are now much happier and their children are able to be educated with the little income from his petty shop.
In Priory House live Nagarajan (32), his wife Kaliswari (29), their son Masanakathirvel (10), and their daughter Vinothini (8). Their son tragically was born with an ano-rectal malformation which has resulted in his having to have ongoing major operations, costing the family a great deal of money. The situation was exacerbated by their hut being filled with rain, making it difficult for them to care for their son properly. Fortunately Nagarajan heard about RTU who, due to the family's hand-to-mouth existence,  built them Priory House where the family now lives peacefully. Their children are both at school and they are able to look after their son in a safe environment.
It is good to have first hand information of the two families who are very grateful for this life-changing support. Our next donation will hopefully provide "St. Mary's House" to another needy family.
Christine Dickinson
Sign up to our newsletter