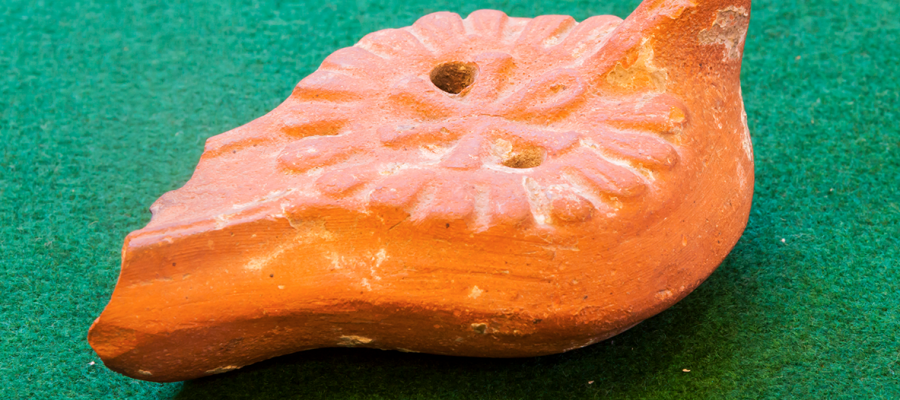 Timeline
The Benedictine priory
Much of the early history of Lancaster Priory depends on the interpretation of indirect or incomplete information, so may be a little patchy in places.
2nd century – Date of Roman oil lamp (c. 180 AD) discovered outside the Priory church in 1910, which suggests that Christian worship took place on this site before Christianity was officially tolerated in the Roman Empire.
4th century – Roman defensive fort in Vicarage Field completed
5th century – Romans leave Britain leaving an informal settlement on Castle Hill
9th century – Christian churches established on banks of River Lune. Saxon stonework with Christian iconography has been found on Castle Hill
1086 – Castle built by Roger the Poitevin
1094 – Benedictine Priory dated by charter
1291 – The Priory produces a good steady income
1322 – Lancaster is invaded by Scots burning and plundering
1345 – Probable date of the carved oak choirstalls and misericords in the Priory Chancel, recognised by Royal Academy as "one of the most impressive sets of English medieval church furniture in England"
1350 – Black Death Lancaster lost 1 in 3 of its population
1400 – Priory's 14 carved oak choir stalls recognised by Royal Academy as "One of the most impressive sets of English medieval church furniture in England"
Priory and parish church
1414 – Henry V handed Lancaster Priory to Convent of Syon
1430 – Henry VI founds the Parish of Lancaster and the Priory Church of St Mary is officially renamed "The Priory and Parish Church of Blessed Mary of Lancaster"
1540 – Henry VIII's Dissolution of Monasteries
1557 – Robert Dalton of Bispham purchased the main territorial possessions of the Priory
1559 – Authority to appoint a vicar was granted to Nicholas Leynburn of Cunswick and then to his son
1638 – Dr Augustine Wildbore, vicar built large and imposing Vicarage
1722 – Two more bells added to make a peel of six
1767 – Authority to appoint a vicar acquired by Edward Marton of capernwray and continued until the early 20th century
1755 – New church, St John the Evangelist, on North Road, built
1796 – Foundation of St Anne's on Moor Lane for worship – this became The Dukes Playhouse in 1972
Renovation and renewal
1760 – 1900 – building work includes new porch, churchyard walls, new roof, repositioning of font, new organ, improved heating and stained glass
1856 – 1864 – removal of galleried, oak pews and new bells donated by Lord Ashton
1903 – 1904 – Kings Own Lancaster Regiment Chapel built
1911 – 12 – programme of restoration
1979 – vestries extended
1993 – interior refurbishment
1999 – Visit by H.M Queen Elizabeth II to mark the 600th anniversary of the association between the Crown and the Duchy of Lancaster.
2012 – Removal of the Makin digital organ, and installation of the Willis / Harrison organ, and the dedication of the new organ by the Archbishop of York.
Sign up to our newsletter