News & Events
Priory Choir Association AGM. 
Notice is given of the Association's AGM to be held in the refectory immediately after morning service on Sunday 15th March. Only members of the Association are entitled to vote. The meeting should last around 10 – 15 minutes.
Nick Walker (Chairman)
Choir Association delighted to welcome Richard Widdess back to the Priory.
Sunday 17th February 2019 saw the return to the Priory of Richard Widdess former chorister under Henry Walmsley. The Widdess family were heavily involved with the church, father David singing bass as Richard sang treble. Mother Dorothy a member of the congregation and many church groups including the sewing guild. Dorothy was responsible for much of the research and making of the Priory Cope which can
be seen on festal occasions. David helped with the research for the cope and for the tapestries which fill the ancient stalls.
Richard and wife Margaret live in Cambridge from where Richard commutes to SOAS where he is Professor of Asian Music. They were very taken with the welcome they received at church and enjoyed listening to the girls sing the morning communion service. Richard made contact with the Association after seeing himself on one of the pictures on the website. They have promised to return in the near future and hopefully meet with some of the congregation who they missed this time.
To the right are Richard (left) and Andrew Nicholson (right) in 1963
---
ATB and older choristers enjoying their Chinese Night at the Golden Dragon.
---
July 2018
Choir Association picnic – Dec v Can rounders match
Priory Choir July 2018
---
Current choir members and alumni sing carols
at The Sands Care Home for residents, including former Chorister Rodney Webb, December 2017.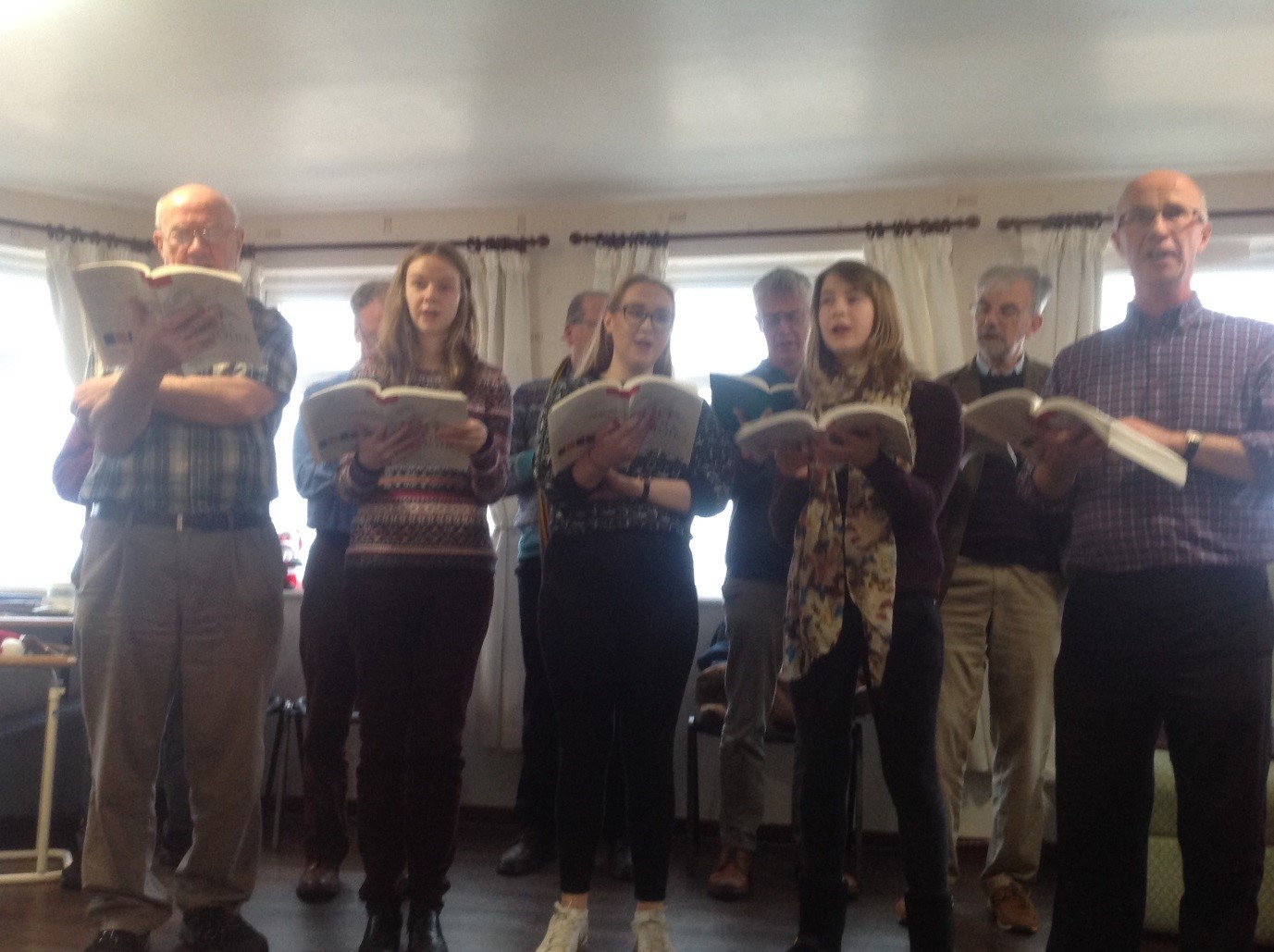 ---
Lancaster Priory Choir Association constituted!
At the inaugural AGM of the LPCA held on the 10th October 2017 a constitution was adopted unanimously by all members present. This means that the Association is now properly constituted.  Copies of the constitution can be obtained from the Chairman via e-mail.
Chairman and Vice-Chairman were elected but not Secretary or Treasurer. These are being covered by the Chairman for the present. A full committee now exists including one adoption. The Committee represents a mix of ages as well as current choir members and alumni.
Choir Picnic
A pleasant time was had at our "end of term" picnic held in the church yard on Sunday 23rd July following morning service. Various treats were shared amongst those attending to complement what they had already brought. As the dark clouds gathered everything was rushed inside before the deluge fell – excellent timing!
Martin challenges anyone to do the Steady Hands competition / Mr T shows how it should be done / Nobody went home hungry!
---
ATB Curry Night at the Bombay Balti attended by association members

Sign up to our newsletter