In memoriam
Douglas Lee 1939 – 2019
Born in 1939, Douglas was first a chorister at St. Peter's Church on the Antrim Road in Belfast. He became assistant organist to Lister Wood (brother of Charles Wood) at St. Peter's whilst studying medicine at Queen's University Belfast.
In 1969, he moved to Sheffield to take up a haematological post and was a Bass Lay Clerk in Sheffield Cathedral Choir. (The sight reading at the audition was Harris' Strengthen Ye The Weak Hands). Always a keen 'cellist, he participated in chamber music wherever he lived, and was a founder member of the Haffner Orchestra after he relocated to a Lancaster in the late 1970s.
Rachael and Douglas were married by Maurice Bartlett in the Priory in 1986. Their son, Simon, became a chorister in 1994 and Douglas joined the back row of the choir soon after as a tenor. Rachael was Director of Music at the Priory from 1996 to 2000 thanks in no small part to Douglas' support, and the whole family found great joy in making music together in this context.
Upon retirement, it was Douglas' wish to regain his organ skills and he was organist on alternate Sundays at St. Paul's Church, Brookhouse and Emmanuel Congregational Church in Carnforth. He was delighted to re-join the Priory Choir and sing at a Sunday Evensongs for the last four years of his life.
The photograph is of Douglas receiving his Long Service Award at a service in Blackburn Cathedral with the then bishop, Alan Chesters. It also shows three generations of choristers: Albert (Douglas' father-in-law) was a chorister in Blackburn Cathedral, Douglas, and Simon (receiving his Bishop's Chorister Award). Simon continues his church musician today as a Tenor Lay Clerk at Durham Cathedral.
In 2012, Douglas was honoured with a Special Service Award from the Royal School of Church Music for his ministry and work for the Northern Cathedral Singers during Gordon Appleton's premiership.
Douglas was always ready with a quick quip and enjoyed some friendly banter with his colleagues on the back row. He spoke with a gentle and soft voice and with its Irish lilt it had a calming and endearing effect on all who heard it. When we remember him it will not be just his singing that we recall but his speaking as well.
John (Jack) Wilkinson 1933 – 2019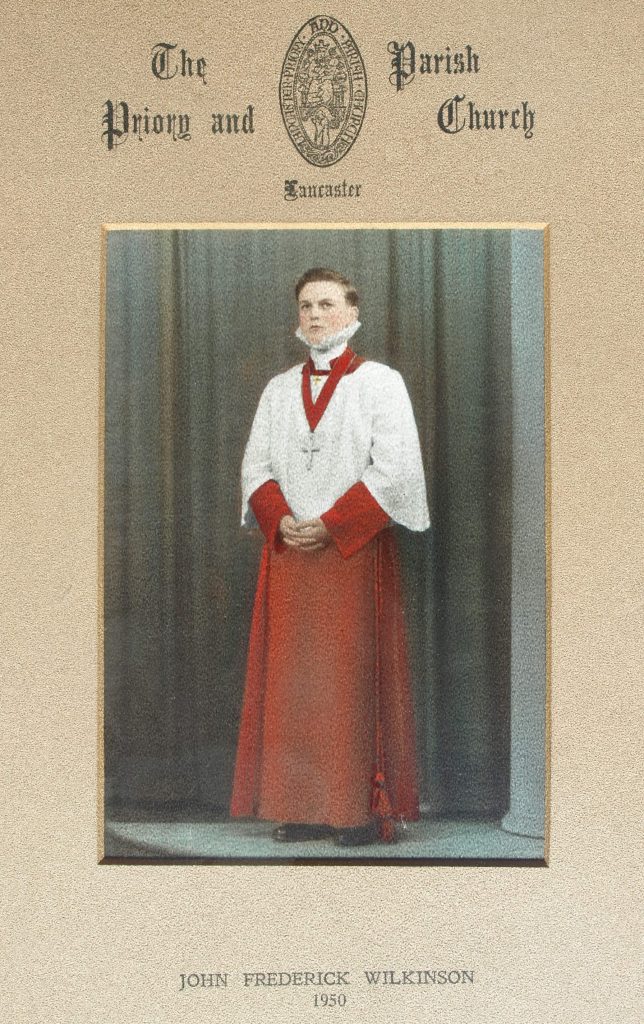 Jack lived on Windsor Avenue in Lancaster and joined the choir as a treble during the war. He also became a member of the Priory Youth Club. He was noted for having a particularly pure and true treble voice and undoubtedly took part in the radio broadcasts made at that time. There are no recordings as far as we know but two Priory stalwarts (Colin Whiteside and Mildred Walker) remember him singing and hearing his wonderful voice. Mildred remembers him singing at her wedding to Jack Walker probably in Psalm 121 (Walford Davies) which they chose as an introit.
Jack was called up to do his National Service when he was 18 and he spent his two years in the RAF mostly in Malaya which he thoroughly enjoyed. Once demobbed he returned to Lancaster but not to the choir. He joined LADOS in the mid 50s  where he came across the Walkers again singing in various productions. He spent time travelling with Jack Walker in his commercial traveller role for the electrical wholesalers D. Inman Ltd. They used to enjoy driving along and singing psalms and various pieces of church music which they knew. Jack Walker went on to run Inmans while Jack Wilkinson went on to run Hadwins Electrical in Kendal.
Jack was married to Val by whom they had a son Jonathan born in 1961.
Jack's funeral was at Beetham Hall Crematorium on 15th April 2019
Rodney Webb
This tribute was written by his brother Jim for Rodney's funeral at the Priory on Monday, March 12th
Rodney had the ability to live life to the full and enjoy all that he did.  Rodney was never driven by money, greed or jealousy.  He worked hard to enable him to enjoy his interests and hobbies.  Whilst he was always competitive, he was never aggressive.  When he was 13 years old he took apart the bowling attack of me and my friends at Hala Carr, scoring for 200 not out on balmy summer evening.  25 years later, he would bowl out his 10 year-old nephew Jason first ball when he had donned all his gear to show his talent to Uncle Rodney.  He just couldn't resist.
It all started for both of us here in the Priory.  Our parents, Nora and Sydney, were married here on 18 October 1939.  Rodney spent his first 5 years living in Hubert Place, overlooked by the Priory, overlooking the Giant Axe and round the corner from Lune Road.  Three venues that provided him with so many of his happiest days.
Rodney lived and worked all his life in and around Lancaster.  He put so much into his life here that he was made a Freeman of the City on 15 July 1978.  A great honour and credit to him, but typically he never referred to it.
Visiting Rodney in his pomp was like living in his slipstream.  It was hardly possible to see him through the 60's and 70's because of his busy schedule.  It was easier to look in the Lancaster Guardian each week to see what he had been doing.  Later, when telling him we were coming to see him, his response was always to tell us where he was going:
–              I will be at LADOS or St Laurence or Choir Practice but we will be in the Merchant's later
–              I will be in the Boot & Shoe with Tony and the lads, or with Norman in the restaurant.
Then there were his annual calls regarding tickets for the LADOS show and the invite to the after-show gathering.  Such great nights.  For me he always filled the room when I was with him.  Mind you, he also had the ability to empty it rapidly at times.
In 2001 he called me to say he had two tickets for the FA Cup match between Morecambe and Ipswich Town at Christie Park.  Great – see you there, I had to drive 200 miles.  He didn't tell me that my ticket was for standing in the West Stand.  His ticket was for the Directors' Box and included full hospitality.  You can see us in there after the match. But no, the Bouncer had strict instructions.  Typical Rodney but I knew him so well and just laughed.
He once proudly announced, when we arrived at the house as he was on his way out, that he had not had an evening in the house for over a year.  When Norma, his sister-in-law, asked whether he enjoyed that, he replied 'Well yes, every day's a Saturday to me'.  The perfect summing up of Rodney.
I think it is ironic that Rodney is probably the only one here who has never used a computer or owned a mobile phone.  I cannot include social media because we both have never embraced the modern way.  Yet – just google Rodney Webb, Lancaster and up he pops:-
Lancaster Priory – Rodney's retirement from the choir after 65 years' service on 11 October 2016.  (His Priory association gave him so much pleasure and led to his many other interests in choral singing and the Loyne Barbershop Quartet.  I thank all at the Priory for supporting Rodney in his last couple of years when he struggled to come to terms with his illness)
Lancaster City FC – Rodney Webb full back during the '60s and early '70s.  Played over 500 games and recognised as one of the best full-backs to represent the Club.  (He will be honoured at the next home game)
Northern Cricket League – Rodney Webb player statistics 1967 to 1996 playing regularly in the Lancaster First Team 1967 to 1988 – 21 years. (He actually joined the Club as a fifteen year old in 1956 and played more than 1000 games over 45 years, winning the League Title 5 times and the Lancashire Cup 4 times & captaining the winning side twice)
Preston North End FC – member of the great 1959/60 Youth Team that beat Manchester United over two legs to meet the Chelsea team in the Final in front of a crowd of 27,764 at Deepdale.  (Still remembered by the Preston Former Players Association and remembered at their home match last week against Bristol City)
LADOS – there he is again, in the chorus of Fiddler on the Roof in 1973 and 34 years later in the repeat performance in 2007. (He joined LADOS in 1970)
And, would you believe it, there he is again – ACTOR profile, he played the part of Terry in 'Leon the Pig Farmer'.  (He invited me to join him at the London Premier of the Film in 1992 at The Odeon, Camden Town.  As ever, I drove and he enjoyed the cast party later).
Over the past few years Rodney has suffered increasingly from dementia.  I cannot thank Sarah enough for her love and support to Rodney throughout this difficult period and, in addition, the Sands Nursing Home, Morecambe for their care over the last six months.
Rodney was a much loved family man.  He was so proud of both his daughters achieving degrees, and their interest in music.  He enjoyed his cruises and holidays in Venice with Sarah and walking their golden retriever, Oakley. On a couple of occasions we joined them in Venice and I remember Rodney sitting at the Rialto Bridge, looking out over the Grand Canal from behind a litre glass of beer, a happy man.
He will be sorely missed by Sarah and Oakley, daughters Cathryn and Caroline and their families, and myself, Norma and his nephew and nieces.  Rodney leaves a great legacy.  Your attendance today is testament to the Great Rodney Webb.
Rodney, I am so sorry that all this has come to an end and that I cannot look forward to being with you to have a pint, or a litre, again.
All my Love,
Jim
Paul Baxter
I remember it well. It was 2006 and we could scarcely believe the good news that Paul Baxter had decided to retire to Morecambe and was
going to rejoin the Priory Choir. The untimely death of Michael Orr in the previous year had left a significant gap in the tenor section and had wounded the morale of the whole choir. Through his immense talent as a choral singer and his sparkling personality, Paul was to play an absolutely fundamental role in steering us through this difficult and dark period.
Paul was a legendary figure in the choir. When I joined in 1959, he had just left although, as his father Jim was Head Verger, he was still on the scene, and of course his photo as Head Boy adorned the wall of the choir vestry. He cut something of a hero figure to us fledgling choir boys. His reputation as a fine treble still lingered but what impressed us rather more was his 'cool' appearance and his willingness to challenge authority. After all he had had the nerve to drop toothpaste onto a senior choirman's bald pate on the choir holiday to Rossall School – for which misdemeanour he had been invited to take early retirement from the choir.
Paul was very much one of our own, although like so many others he was an incomer and a Yorkshireman, arriving in Lancaster when he was 11. He came from a very musical family but it was at the Priory that he discovered and nurtured his love of church music and, under the choir director of the time – Henry Walmsley – Paul could not have found a finer teacher. Great though the choir now undoubtedly is, we may just pause to remember that in those days it broadcast Choral Evensong regularly on BBC Radio, Paul himself taking part in many of those broadcasts. Paul's ability was recognised beyond the Priory. In 1957 he won the treble section of the then famous Morecambe Music Festival – an achievement of which he was justifiably very proud as the adjudicator was Herbert Howells, the doyen of English church music.
His was a romantic soul and it was this that ultimately led to his departure from Lancaster. He had first met Sylvia, who was to be the love of his life, when she was on holiday in Yorkshire. Faithfully keeping up a pen-friend relationship down the years and meeting up in the holidays, Paul eventually decided that this separation was too much to bear and sought a permanent transfer to Edinburgh so as to be near her. They eventually married and settled down in Helensburgh.
Throughout his life in Helensburgh, Paul's passion for church music remained unabated. Though first and foremost a singer, he was also a talented organist. He sang in the choir at Paisley Abbey which he joined to support his son Martin as he embarked upon his musical journey. He was, at different times, organist and choir master at Holy Trinity, Paisley, the Clyde Submarine Base, and St Michael and All Angels Church, Helensburgh. Upon his return to Morecambe, Paul threw himself with great verve into the local musical scene. Besides the Priory Choir, he joined the St Lawrence Singers and Cumbria Baroque, and deputised on the organ in many local churches, most of all at St Oswald's, Warton and St Michael and All Angels, Beetham. He was delighted when he was able to make a CD with Margaret Pattinson, director of St Lawrence Singers, and Ian Pattinson, our own Priory organist, and we are delighted that we have a permanent record of his astonishing talent.
Paul was a fine musician. He was naturally musical. His purity and clarity of tone as a tenor were complemented with accuracy, timing and phrasing. Nowhere was this better illustrated than in his beautiful rendition of the solo in the Nunc Dimittis of Howells' Evening Service: Coll Reg. It was spine-tingling. He was an outstanding chorister and embodied the spirit of the Priory Choir. Behind the scenes, he was full of fun, always ready with a witty 'one-liner'. He was kind, supportive and encouraging – a quality noted by newcomers and younger members especially. In the vestry and in church he led by example, aiming for high standards, but making no big deal when we fell short. He was a 'safe pair of hands' – as steadfast, reliable and true in his singing as he was in his dealings with us all.
Paul had a great zest for life. Besides his many musical activities, he enjoyed riding his motor cycle (a life-long passion), swimming and walking his dog. His illness was a cruel blow, but the courage he showed throughout was an inspiration to us all. Paul was essentially a family man, devoted to his wife Sylvia, his son Martin and daughter Lesley, and his grandson Ethan. To them all we extend our love and sympathy at this time.
Memories from former colleagues:
Walter Whipp, one of the oldest surviving choristers, writes to us.
The Whipps were a stalwart Priory family. His father Bert sang as a bass on Cantoris until illness prevented him from singing. On his death Bert left money to pay for the reading desks in the choir stalls. Walter joined the choir in the autumn of 1935 and left at the start of the war in 1939. He remembers the names of several choristers with whom he sang including Teddy Mashiter who became his lifelong friend. Along with Teddy were Geoff and Francis Coward, Gerald Battersby and Stewart Cross who became Bishop of Blackburn. Four others he refers to by surname: Slinger, Crosby, Duddington and Grayston.  Walter became a naval architect living and retiring in Bath. Sadly Walter died just before Christmas 2016. He was a founder member of the Association and we will remember him with great fondness
Sign up to our newsletter