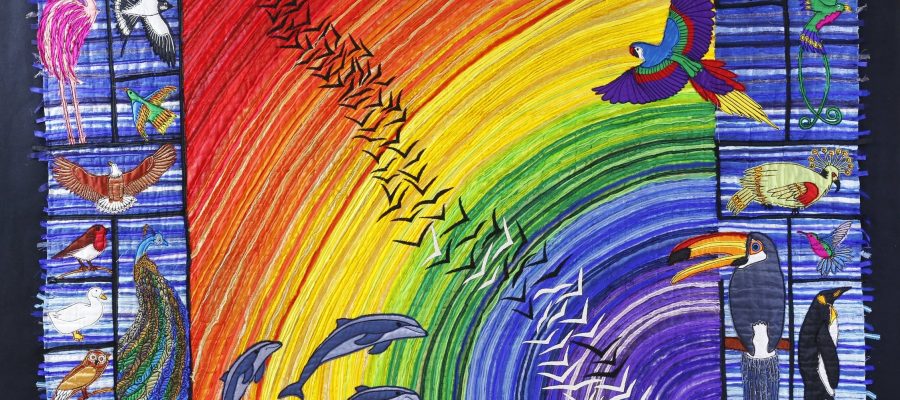 29TH SEPTEMBER – 3rd NOVEMBER 2021 – EXHIBITION THREADS THROUGH CREATION - 29/09/21
EXHIBITION THREADS THROUGH CREATION
Click to download information about Spectacular stitching at Lancaster Priory 2909-0311- 1 (1)
by Jacqui Parkinson 29TH SEPTEMBER – 3RD NOVEMBER 2021
'Threads through Creation' is a spectacular set of twelve huge textile panels, which is set to delight visitors to cathedrals and major churches all over England. It's an extraordinary, huge tour de force of stitching. Jacqui Parkinson is a textile artist whose work has been displayed in most of the cathedrals of England.
In 2016 she completed the largest textile project by a single artist, ever. 'Threads through Revelation' took more than three and a half years to complete. It consists of fourteen huge panels, and it toured fourteen British cathedrals, and was seen by about 500,000 people.
And now she has just completed her next huge project. 'Threads through Creation' has taken nearly three years. It consists of twelve huge panels, 2.7m high (8ft), 1.3 (4ft) – 3.5m (11ft) wide. They re-imagine the days of creation described in the book of Genesis at the start of the bible.
DRAMATIC AND EXUBERANT
'Threads through Creation' starts with dramatic, stark elemental designs. Then, as the story unfolds things become more and more exuberant, with increasingly spectacular designs and astonishing colours.
It is all designed to be attractive and highly accessible for viewers of all ages. Jacqui has developed a remarkable skill in characterising creatures through stitch. Her depiction of creation is vibrant and beautiful and she often adds a touch of fun (for example one panel includes a dog trying to talk to a monkey; in other panels creatures jump out of the frame).
AN UNUSUAL TECHNIQUE
Jacqui uses an unusual, probably unique technique. She starts with antique bedsheets, that she feels hold their own tales of life and death. She quilts them, and paints them with fabric dyes. She then overlays these with layers of silk, stitches them together in a thick black thread, using a free motion sewing machine: this allows her to building up a drawing line upon line . It took about eight million stitches. The dyes and silks combine to create a complex and vibrant background for the appliqued work on top. The result can be extraordinarily complex when you look close up. She also finishes most panels with metallic leathers and gold leaf.
INFORMATION FOR VISITORS
This exhibition is free for individuals and small groups to attend, but donations are welcome. Groups of ten or more should contact steph@lancasterpriory.org to discuss arrangements for a supported visit.
Sign up to our newsletter