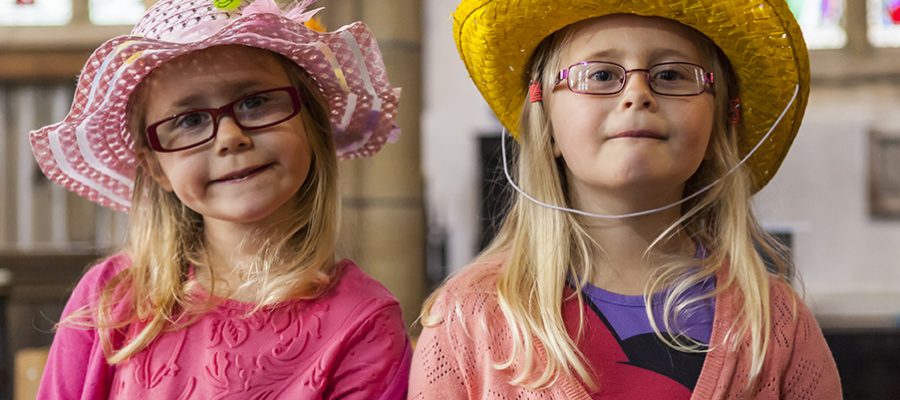 Children's Ministry
Learning by Praying and Doing
A living, worshipping community is one of the few places in modern Britain where people can meet across generations and backgrounds.  At Lancaster Priory, children, teenagers and adults are valued participants in worship.  Our young people are choir members and acolytes.
By sharing their time and their talents the children learn about their faith, get to know other people and, above all, feel they belong both to the Church and to God.
Sunday Morning Groups
our Sunday morning groups are currently postponed
Our aim on Sunday mornings is that the children will experience God's love for them in the welcome they receive, the prayers they pray, and the Bible stories they learn; and we think they do this best when they are having fun.
We meet every Sunday morning at the 10.00am service during term time and most Sundays during the holidays. The younger children start the service with their parents and then, after the first hymn, go with their leaders out to their groups, while children in years 5 – 8 are dropped off before the service at the Priory Hall.  (Please ask the stewards for directions).  All children return at the end of the service to go with their parents to take Communion or receive a prayer of blessing.
Young Church Groups on Sunday mornings
-Refectory Group

Children under the age of two are welcome to join our creche, with its toys and books.  Parents must stay with them.
Children aged 2 – 4 are encouraged to listen to the Bible stories and join in with all the activities. Parents are welcome to leave if they think their child is settled.
Children in Reception or Year 1 talk about the Bible story, pray, sing and enjoy taking part in related craft and games.
-Choir Vestry Group
Children in school Years 2 – 4 enjoy talking about the Bible passage, acting, making and playing games.
-Priory Hall
Children in school Years 5 – 8 have the use of the large Priory Hall, which means that they can break into small groups to explore the Bible passage through discussion, acting, drawing and prayer. There is usually also time to play a game of dodge ball, football or balloon volleyball, while those who do not want to play have the chance to sit and chat or play a board game.
For more information please contact Viv, School and Family Learning Officer: saflo@lancasterpriory.org
Messy Church Workshops
Every term we hold a "Messy Workshop". This is held in the Priory church and involves a great variety of activities and crafts, planned around a theme, great fun for children and adults alike. There is always a 'Treasure Hunt Challenge' around the church with sweets for those who find all the clues. Drinks and biscuits are served for parents and children and the afternoon ends with a noisy active Bible story.
Children of all ages are very welcome.
Confirmation
Each year a course is provided for both young people and adults seeking to prepare for Confirmation. Watch for news of the next date for Confirmation.
All those who would like to be Baptised or Confirmed should let a member of the clergy team know.
Find out more more information about Baptism here.
Lancaster Priory Church works to encourage a safe environment for children – see our Safeguarding policy here.
Sign up to our newsletter