This week at Lancaster Priory
Following the announcement of the death of HRH Prince Philip, Duke of Edinburgh on 9th April 2021, Lancaster Priory will be open to welcome visitors daily 9am-4pm who may wish to light a candle, or to say a prayer.
Details of a service to remember and give thanks for the life of the Duke of Edinburgh and also for the Queen in mourning to follow.
Floral tributes may be left outside the church in the designated areas.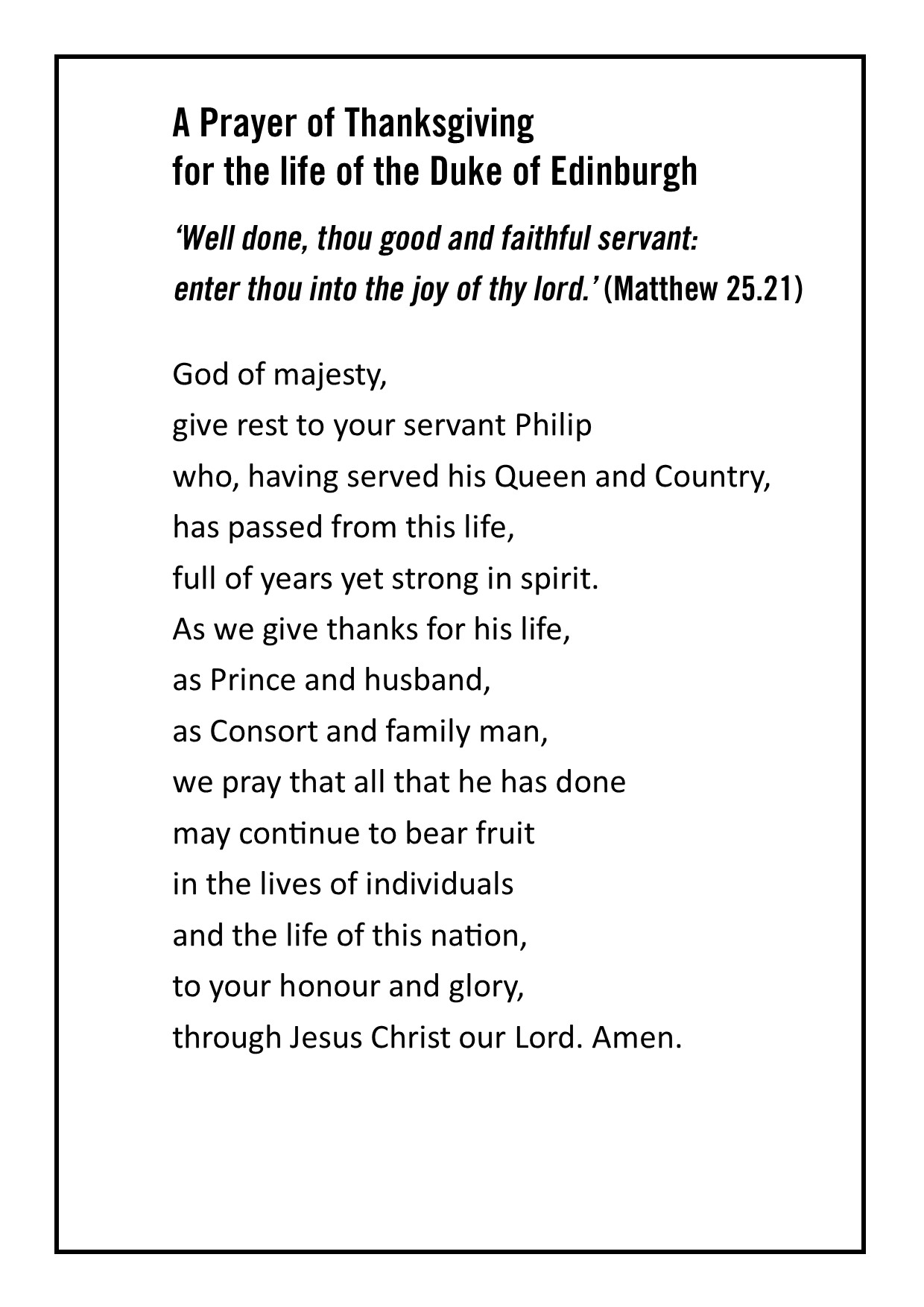 All our worship at the Priory this week
We continue to stream our Services via our Facebook page
---
Daily Services
Morning Prayer can be viewed daily at 9.30am via our Facebook page.
_______________________________________________________________________________
Sunday Services
8.00am       Holy Communion (BCP)
We are now open for Public Worship at our 10am Eucharist Service.
We will still need to use the safe practices we had in place before this latest lockdown: a limit on numbers, hand-sanitising, social distancing and wearing masks or visors whilst in church. Places will also need to be booked in advance as previously. Services will also continued to be live-streamed.
PLEASE PREBOOK FOR:
We will also continue to stream our Sunday service "live" at 10.00am on our Facebook page, but you will be able to follow the service any time after that. You can follow the service by downloading the order of service.
We will be holding a Church Coffee Zoom meeting on Saturdays.  This Meeting will now take place on Saturdays instead of Sunday after church.
This will take place on Saturdays at 10.50am straight after the Saturday Concert Online Showcase. The Zoom link is available in advance from concerts@lancasterpriory.org or will be posted with the Showcase Premiere on Facebook each Saturday morning.
6.30 pm      Choral Evensong (BCP) Easter Carols_21
The return to public worship does not, however, mean a return for the choir. We will continue to be limited to 1 cantor. For this reason we have decided it is probably best not to reopen for a congregation in the evenings but to live-stream only. This will enable us to have a very small choir who can provide us with a choral evensong – something which would not be possible if we had a congregation present with the limit of a single cantor.
We will continue to stream our service "live" at 6.30pm on our Facebook page,
---
Tuesday Services
Our 10.15am Holy Communion (BCP) service takes place every Tuesday and will be streamed via our Facebook page.
Reopening the church also means that we can welcome back a congregation for BCP Holy Communion on Tuesdays at 10.15, starting from Tuesday March 16th.  We know that this service is very special to many of you. Please do remember to book your place in advance.
The BCP service due to take place on Tuesday 30th March will now take place on Wednesday 31st March at 10.15am
4.00pm Family Eucharist Service – next service 18 April at 4pm
Our new Family Eucharist Services are for everyone to enjoy. Twice a month (normally on the second and fourth Sundays at 4pm) we will be inviting children and their families to worship and learn together. The service will be adapted, so there will be something for everyone. It is an informal and relaxed service where our church family can worship together. The service takes a more child centred approach with much greater involvement by the children from the congregation.  Children can read the lessons, prayers and participate in presentations.
These services can be viewed via our Facebook page
We continue to do all we can to ensure the safety of our congregation members, and are grateful for your patience as we work through these challenging times together as the people of God in this place.
______________________________________________________________________________
We will continue to be live streaming morning prayer and some services from our Facebook page. 
---
Enquirers' Course
We are starting an Enquirers' Course for those who would like to understand the Christian faith better and any adults wishing to get confirmed. We will be using the Pilgrim course materials and the six sessions focus on God, the Father, Son and Holy Spirit, the reality of evil and God's great desire to put things right. The meetings will take place over Zoom on Tuesday evenings at 7.30 pm. For any questions and registrations, please contact Anna Walker: anna@lancasterpriory.org
---
Visiting Lancaster Priory
We are currently closed to visitors.
If you are unable to visit us at the moment, please watch our short video of Lancaster Priory which highlights some of the treasures we have at Lancaster Priory accompanied by our choir.
Concerts and Events
Some Saturday morning 10.30am coffee concerts can be viewed via our Facebook page. 
Please check our What's on page for more information
---
Sign up to our newsletter